So you fancy a threesome, a very popular fetish with many people. So, how are you going to go about it? You may be a couple or a single person, where are you going to find other people to join you
What is a threesome?
A threesome is when three people join together for sex. Usually, when an existing couple invite and a third person to join in their sexual activity. I may also be a group of three people meeting with each other for sex. It may be heterosexual, fully homosexual, or mixed sexual behavior.
What Does MFF, MMF, FFF, MMM mean in the context of a threesome?
Commonly used acronyms for threesomes are; M = male and F = female. Therefore M F F will mean one male and two females.
How are you going to get yourself a threesome?
About 80% of sexually Active Men Have Fancied a Threesome, usually involving another female. And maybe it comes as no surprise, 60% of women fancy that too. The majority of women asked, about 74%, also quite fancied a threesome involving two men, whereas for the men it was much lower around 15%. Men seem to regard sex involving another man, in a threesome, as a gay act. Whilst others seemed to threatened by another man having sex with the partner.
However, for most people, it's a fantasy that is not acted upon, due to shyness, prudishness, and not knowing where to find sexual partners.
How To Get A Threesome or Group Sex Started
So let's examine the situation, you have a partner in a long-term relationship and you have a fantasy of a threesome where a young female joins you and your female partner for an evening of fun-filled sex.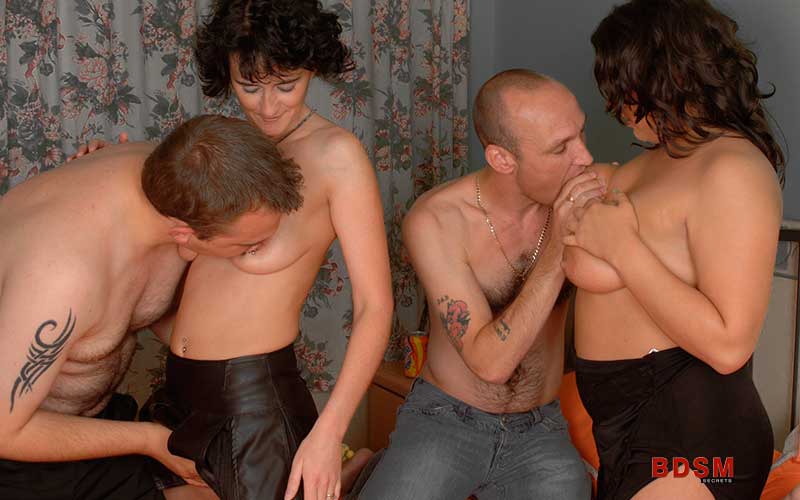 Firstly, how do you suggest this threesome to you your partner? Best not to do this whilst you are being romantic. Better, at a time of general chat, an idea might be to play a movie, not porn, where the subject is of three people coming together for sex. This may include BDSM domination or not.
So, how do you find an additional willing woman or man sex partner to join you are you and yours? How do you know if they fancy you sexually? The simple answer is to join an adult dating and contact site; you will be able to view prospective partners and what they are into. Do this as a couple is my recommendation.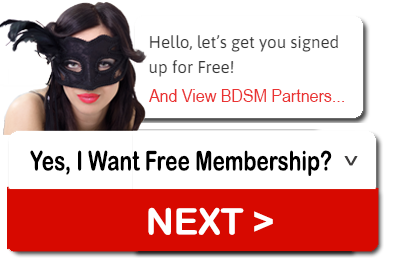 Let's Look At Gerald's, Joanna's + Cassidy's Threesome Adventure
It's difficult to suggest to your significant other that having a threesome would be a fun way to spend the weekend of your anniversary, more so when you've already got the third lucky person in mind.
It brings up a lot of questions, a lot of doubts, as Joanna found, bringing up the prospect of inviting another person to the bed this coming weekend.
Her husband was a wonderful and attentive man. Gerald had always been so, always taking care of her and provided for her and the two children they'd raised together in their home, and she could see the confusion in his eyes when she raised the topic of a threesome one evening on their bed.
How Did You Even Broach a Threesome?
"I don't know- I don't want to sound suspicious, babe, but… you're saying this as you've already spoken with your… your friend about this..," Gerald muttered, putting his phone alarm on for tomorrow's workday, "How did you even broach a threesome with a friend? How long have you known this guy?" he said very grumpily.
Oh my, Joanna thought, no wonder he is unhappy. All these doubts and these reservations came from the fact that her husband thought she wanted to invite another man into their marital bed, for a threesome, when in fact, she had wanted a woman.
So she told him, "Silly – Not a guy, women."
Gerald seemed much more attentive now, and she could even feel his member harden as she rubbed him slowly in the dark, leaning into her husband's ear she said, "A woman… You've met her… Cassady?"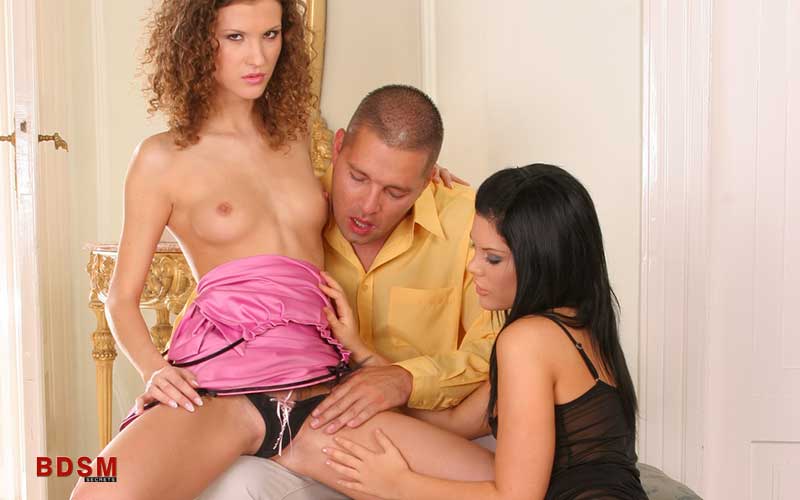 Joanna's Threesome Female Friend Was Excited By The Thought of Sex With Them!
She knew he didn't remember the girl. Hell, she'd only been around the house once to drop off a present for her kid's birthday, stayed to chat for a few moments, waving at Gerald from her car while wearing a mask.
But Gerald was keener now, and he whispered, "Are you… Are you sure..? Is she okay with this….having a threesome with us…?"
Joanna smirked, replying as she kissed down his chest, "She's excited to come round and have some fun, she fancies you, you'll like her, she has got great tits"
The day couldn't come sooner.
Gerald worked all day at his job, and that left Joanna with the house to drop off her children with her mother-in-law, returning to clean and buy the ingredients for her husband's favorite dish and second favorite wine, one that didn't break the bank to get. She was already splurging on the food, no need to ruin their budget.
Gnocchi skillet with chicken sausage and cherry tomatoes, prepping the table for a romantic candlelit mood, wearing her favorite lingerie beneath her blouse and her short summer skirt. She didn't want Gerald to get all dressed up, and so his arrival was met with small kisses and a request for him to get nice and cleaned up.
Is She Really OK With a Threesome Tonight?
The evening had begun to bring the dusk outside, the lights were dimmed within the home, and the candles were lit. Gerald wore a button-up and his smart white jeans, as he sat at the table and watched his wife bring out the meal. She quickly sent out a text to someone, and she took her seat across the table.
"Are we still seeing your friend?" He started to ask, raising a brow and feeling excited and very nervous about what they'd talked about – threesome sex with this girl he couldn't quite remember.
Joanna simply smiled at him, and replied, "We are still, if you are happy and up for it"
She could see how wooden it made him, clearing his throat as he tried to relax, complimenting her food and enjoying his meal, the two talking about his day and their eldest girl's issues at school with discipline.
It was a special night, but it was clear something hung in the air between the two of them, something edging closer and closer.
Joanna, reading a text that told her, her threesome friend was on her way. She joined her husband in the living room to drink their wine and chat for a while, as they waited expectantly. "She Won't be long"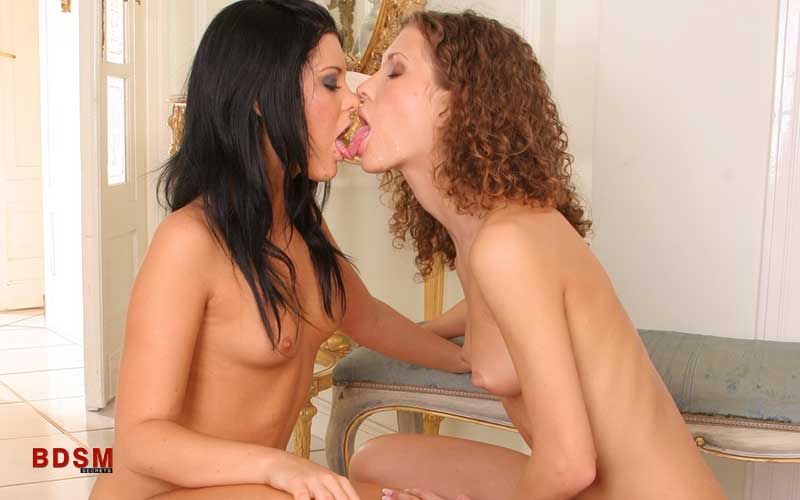 She Has Arrived For The Threesome – She Was Beautiful!
The doorbell rang out in the house, echoing as it dissipated in the tension, and the couple looked at each other for a moment before Joanna stood to her feet and began to walk to the door, opening it and immediately greeting her friend warmly with a hug.
Gerald couldn't see them yet, but he could hear them, his wife complimenting her friend on how good she looked like it was a casual meet-up.
Then the two appeared in the living room. His beautiful wife standing beside a young beautiful woman dressed more for a clubbing night than an anniversary, whereas Joanna wore her jewelry, this woman wore mock dog-tags and had tied her hair back, flannel shirt half-open to reveal her ample breasts held up by a struggling bra.
The girl took the hint, dancing in front of Gerald
She looked a bit surprised, and sounded a bit nervous, turning to Joanna to say, "I feel a bit underdressed."
"Gerry, this is Cassidy," Joanna spoke, looking to the girl, "Cass, this is my husband."
Cassidy approached Gerald, shaking his hand as he stood, and the two looked at each other for a bit too long, before Joanna interrupted the passion in the air, softly taking Cassidy's hips from behind and guiding her to sway gently to some imaginary tune. The girl took the hint, dancing along in front of Gerald. He gasped as Joanna kissed the back of this beautiful girl's neck. Is really going to be a threesome? He thought.
Our Threesome Cassidy, Had Beautiful Breasts He Thought
Gerald was… really turned on by now, and a bit envious. He could see that the two were close. There was hardly a situation where they weren't already intimate prior to tonight, but for what he believed was about to happen, the threesome, he was happy to let it slide… for now.
He decided to lean in to kiss Cassidy's neck too, glancing at his wife and her red-stained lips, both of them locking eyes with this girl between them, before parting to start slowly undressing her.
Joanna slid her top down the girl's shoulders, as Gerald pulled her jeans down to her calves, helping her step over them and onto his lap, sitting down again to let her climb onto his thighs. Cassidy's beautiful hot breasts fell against his face, the soft cloth of her bra serving as the only barrier.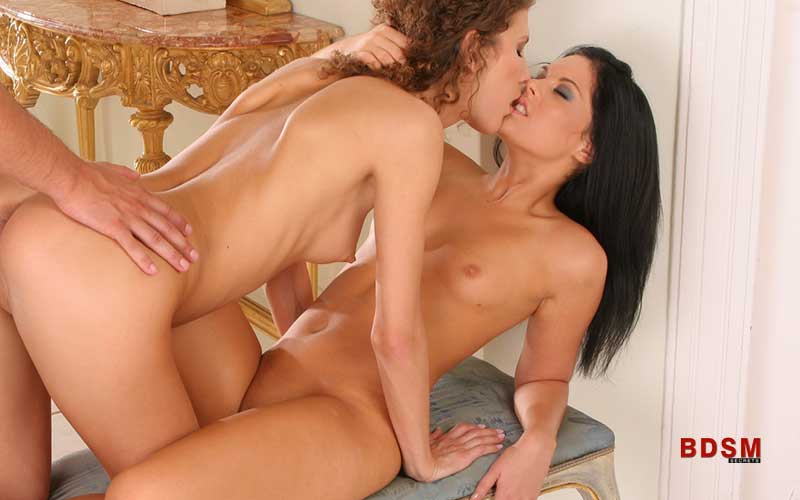 She got on her knees in front of her husband
"Shit… You two are just crazy..," Cassidy cried out, moaning as Joanna licked down her back and started spanking the girl's ass, hard.
"Maybe..," Gerald answered quietly, his hand coming round to grope the girl's lovely round buttocks, following in his wife's handprints, he spanked her as well, but not so hard, during this threesome play.
Cassidy yelped out, something kickstarted in her demeanor, "Fuck..! Keep doing that… don't stop…"
She leaned in to kiss Gerald, receiving another spank, putting her tongue deep into his mouth, as Joanna took another drink from the wine bottle, watching the two have their fun. She got on her knees in front of her husband, looking up at the two swapping spit, reaching to unbuckle Gerald's belt and start to try and pull down those clean white jeans. She had never seen his erection so hard.
Pressing Against the Girl's Lovely Ass In This Sex Crazy Threesome.
Gerald lifted Cassidy up, lifting his hips up, letting his wife remove his jeans. He was so hard now, pressing against the girl's lovely ass with his hot member as Joanna kissed his inner thighs hungrily.
Joanna guided Cassidy down onto her knees like she'd been, tired of seeing the two kiss, wanting to share her husband for the time being in this threesome. She guided the girl's mouth onto his ball sack, smacking her ass once more, the shrill clap eliciting a moan from Cassidy as she slobbered lustfully Gerald's scrotum and the bottom of his penis.
The couple locked eyes again, and their threesome night had fully started.
Gerald watched the two dreamily, two hungry mouths licking and sucking and huffing hot breath on his cock, drenching his groin, drenching the couch under him until Joanna put Cassidy's shirt underneath his seat.
Gerald now got full-site of Cassidy's amazing ass, as she pleasured his wife, he just couldn't hold back, he just plunged his cock deep inside this girl's warm wet body. This is a real hot threesome!
Joanna took a handful of Cassidy's hair as she looked at the girl licking her clit, moaning and groaning, glancing up at her husband stuffing the young woman with his fat tool, punishing her with spanks whenever he felt that she wasn't pleasuring his wife enough. That was never the case, but it didn't stop Gerald's hand, and it didn't save Cassidy's cheeks from bruising red.
Cassidy couldn't take much more threesome pleasure
They sucked and copulated with Cassidy that night, for hours, using her for every little want and desire until Cassidy couldn't take much more, resting on one end of their bed as the couple embraced lovingly on the other.
Gerald slowly humped into Joanna, kissing his wife with every amount of love he could muster, and they locked eyes one last time he came, and he finished inside of her.
It was a warm moment, and he slid down beside Joanna to rest, to come to a rest finally, whispering to her, "That was… This was good…A threesome"
"Just good..?" Joanna teased, cuddling atop his arm, hugging her husband dearly.
"It was perfect..," he corrected himself, reaching out to pull Cassidy close, the tired girl sleepily snuggling into the man's chest, while lovingly caressed those amazing breasts before continuing to snore. Joanna reached out to rub the girl's head, breathing in deeply and letting it out as she closed her eyes to rest. All three slept well that night.