Just What is Meant By DOM or Dominant
Dominate refers to a practice in the BDSM lifestyle where and you are not alone if you have fancied trying it. The feeling of power and being in control over a sexual partner can be quite a turn-on for some.
BDSM Dominant or DOM; The superior party in BDSM games is referred to as the Dominant or DOM (male) and Dominatrix or Domme (female) while their partner is known as a submissive or SUB. The dominant partner exercises physical and emotional control over the other both in a sexual and non-sexual context. Other words used for domination are Master, Owner, and Mistress. domination is popular in many countries and enjoyed by both partners.
Domination is popular in many Western countries and enjoyed by both partners and is usually practiced as part of a BDSM lifestyle.
Contrary to popular belief, domination is not limited to physical contact. It also includes erotic humiliation, phone sex, or various types of mind-games where the submissive party follows a list of instructions provided by the dominant. For example, the Dominant might order the submissive to go out in public with no underwear or to wear a leash and a collar when both of them are out together.
The Dominant DOM Takes Full Contol
During domination, the superior partner has full control over the submissive's chastity. Some Dominants want their submissive to completely belong to them and consequently require them to wear a chastity belt.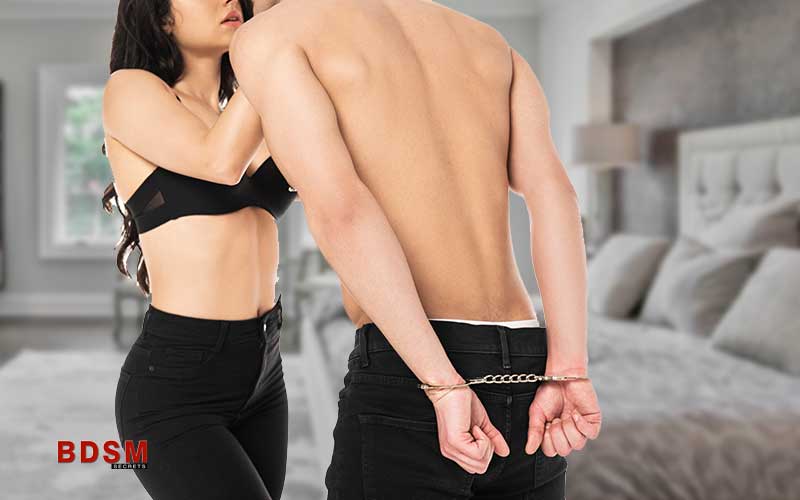 On the other hand, others prefer to share their submissives with other Doms. This practice is often used in the BDSM lifestyle to illustrate the Dominant's ownership over the submissive's body. However, it is not done without the consent of the submissive.
Domination of Another Individual Needs To Be Consensual
Domination comes along with its flip side, Submission, which we will talk about in a separate article. As talked about numerous times earlier, consent is the center of any kind of BDSM activity. Consent is a vital element in all psychological play, and consent can be granted in many ways. Some employ a written form for others a simple verbal commitment is sufficient. Consent can be limited both in duration and content.
Domination has another element to it when it comes to consent. There exists something called Consensual Non-Consensual. Consensual non-consensuality is a mutual agreement to be able to act as if consent has been waived within safe, sane limits.
In essence, it is an agreement that subjects to a safe word or other restrictions, and reasonable care and commonsense, consent (within defined limits) will be given in advance and with the intent of being irrevocable under normal circumstances, at times without foreknowledge of the exact actions planned.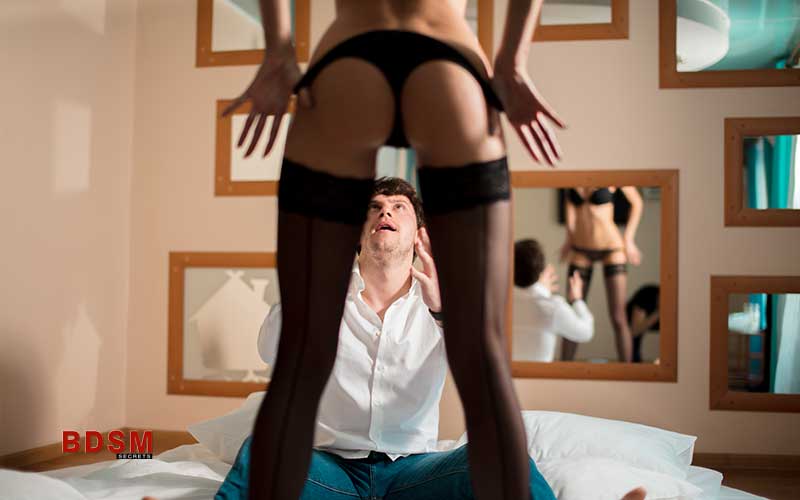 As such, it is a show of extreme trust and understanding and usually undertaken only by partners who know each other well or otherwise agree to set clear safe limits on their activities.
Basically, in simpler terms, it is the consent given to be non-consensual during the duration of the sexual act. For long-term consent, a "Slave contract" is often used. Slave contracts are simply a way of defining the nature and limits of the relationship and are not intended to carry legal force.
A safeword is commonly established to ensure that both parties remain firmly within pre-determined boundaries. See our page on safe BDSM play
Domination Comes In A Number of Forms
When it comes to domination there are many ways the DOM and SUB activities can play out. The traditional BDSM play is Master or Mistress and Slave where at the behest of the dominator the submissive will do almost anything that is asked and can involve punishment. At the other end of the scale, dominations maybe just a simple role play such as policeman & criminal or hotel maid and guest.
All domination practices do not necessarily involve spanking and impact play, often it can be quite simply who is in charge of the sexual game. A female dominator, for example, may require her male submissive partner to go through some ritual before sex. Denial of orgasm and teasing their partner is also common.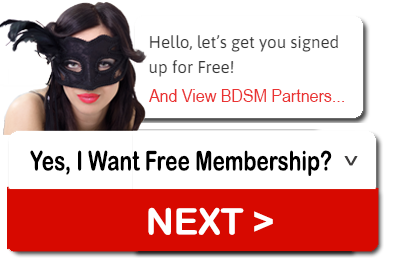 Here is a short story about a Jenny trying to be dominant with a really hot man.
Jenny is 29 and a waitress at a local restaurant. She has a sweet face and great figure and this is her story:
I met this guy at a party and we seemed to click in a very sexual way almost immediately. He couldn't take his hands off me and for the first time in a long time, I felt like I was the one in control because he was chasing me so hard.
This put dirty thoughts in my head. I teased and ran him around the whole night. I would let him nearly kiss me, feel his breath on my lips, and just turn away. Then I pushed him against a wall feeling his hips against mine, I gazed up at him with a little smile on my lips and ran just the tip of my middle finger over his bottom lip.
I Started To Realize I Was Dominating Him
I could feel his hands moving down my spine towards my ass. I kept eye contact and moved them away whilst pushing harder with my hips against him. At the end of the night, I pulled up into a corner and kissed him.
It felt different though, he was letting me take the lead. I felt in control then. My pulse quickened and I pulled him in kissing him deeply, forcing my tongue between his lips.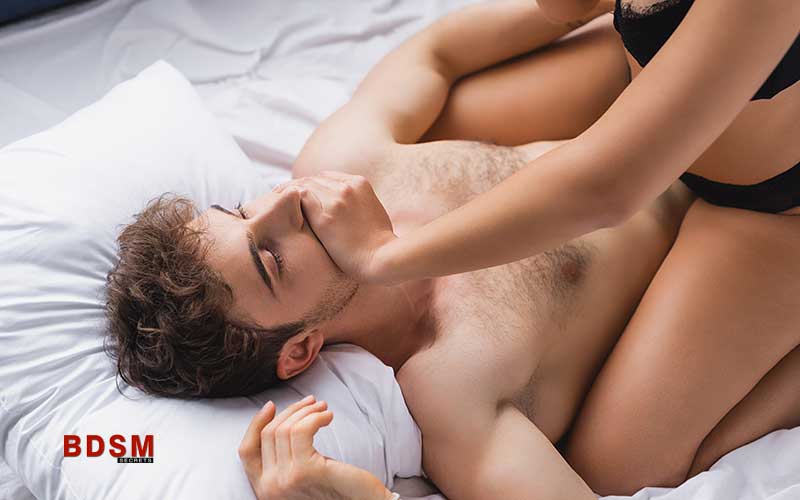 I suggested we leave the party and go back to my place. He seemed a little nervous, and to be honest, I was too. The dynamics that had been set up I was the dominant one, it didn't come naturally to me. But I was so turned on that I could feel my pussy wet and throbbing.
I Was The Dominant One Now
I stood in the middle of my room and let him come to me. As he came I unbuttoned the top few buttons of my silky blouse, so he could see more of my breasts.
He kissed my neck and I let him unbutton one more. Smiling, I gently wrapped my fingers around his and pushed them back down to his sides. He looked at me, holding back now. My fingers ran along with the waste of his jeans unbuckling the belt and zip.
"Talk your top off" I ordered.
I took a step back and watched as he slowly pulled the t-shirt over his head revealing a very nice muscular torso. He stepped towards me and I ran my fingers down his chest through the curling hairs.
"Now, take your pants off."
A little smile played on his lips, and he took them off.
This Gorgeous Man Submitted and Let Me Take Control of Him
His body was gorgeous, he seemed so confident in it. I could feel myself dripping wet. This man, this gorgeous man had let me take control of him. And I could see he was enjoying it. His cock was rock hard and I hadn't even touched it yet.
He sat down on my couch and watched me expectantly. I was still feeling dominant and was completely in control of the situation and wanted to keep it that way. So I reached under my skirt and pulled my tiny panties down over my boots. I tossed them to one side and walked over to him kneeling between his legs.
I let the top fall off my shoulder revealing my tits and my hard nipples. I leaned forward licking his shaft from base to tip. I tasted him and spat it back out onto his cock before I took it all in my mouth.
I Felt Less In Control, But I remained Dominant
I was starting to feel less in control and dominant so I took both his hands and had him rest them on either thigh. I didn't hold them there I just placed my hands over the top. I carried on sucking him until I could feel his cock twitching.
His penis hard and throbbing and It popped out of my mouth, so I lifted my skirt and showed him my shaven pussy for the first time. I made him taste my juices before I straddled him. All this time he kept his hands on his thighs and now my legs held them there.
He Had To Wait, I was In Control
He was close to cumming, too close. Being dominant I ordered him to wait, as I wanted to cum as well. So I made him wait with his cock nearly touching my pussy. He leaned back closing his eyes and I bent forwards kissing his neck, nibbling his ear.
He was groaning and biting his lip by then, but still being submissive, he let me take over him. I could hear my ragged breaths as I kissed his body. I could feel my pulse racing but at the same time, I felt this odd calmness. I wasn't losing control like usual.
I Was The Dominator and He The Submissive
My hips dropped down and we both gasped as I put him inside me. His whole cock seemed to fill me and my pussy loved it. My nails dug into his shoulders as I move up and down on him. His was rock-hard was hitting all the good places making my juices cover his thighs. I made love to him fast and hard until I came with a cry and a shudder.
And then just as I thought I couldn't get more turned on he leaned forward and whispered in my ear, "Can I cum now?"
"Yes, cum now inside me", and he did, in my direction. He filled my pussy with his cum, I could feel his throbbing dick against my contracting vagina. – Amazing!
Taking control of a man, being the DOM dominant for the first time opened up many new roads for me in my sexual confidence and exploration journey.