Spanking is one of the most common kinks out there, spanking is loved by beginners and those doing it have most likely not even considered that it comes within the scope of BDSM. If you have ever thought of someone bending you over their knee (or bending someone over your knee) then spanking and impact play could well be fun for you.
What is Meant by Erotic Spanking or Impact Play?
Impact play refers to any form of impact on the body for sexual gratification purposes. The most used form used is Erotic Spanking. Hand, Paddles, and Whips are commonly for this purpose. Impact play is most commonly used for sexual foreplay or BDSM practices.
You have been reading about BDSM and the basics of it, and now you fancy something along the lines of spanking and impact play.
This isn't surprising as spanking is enjoyed by many people, as not only can spanking be fun but for the spankee, the anticipation and slight pain can also release endorphins, causing a natural high.
Spanking Is The Most Common Form Of Impact Play
Impact play refers to any form of impact on the body for sexual gratification purposes. Many practitioners practice impact play the most common way, through spanking, but those who are more experienced will often bring toys into the mix or try a slew of other acts.
Most common toys are items such as whips, floggers, and paddles. Impact play is a prevalent kink with a wide umbrella of other sexual and BDSM practices.
Each piece of impact play equipment delivers a different sensation. It is very tempting for a beginner wanting to play the DOM and spend money on beautiful black leather BDSM accessories, however, it's best to start small and use what you have at home. Your hand is the most obvious thing to start with, but even a kitchen spatula can double as a paddle. If you would like to see an amazing range of impact play toys and what you can get to play with, visit our sex toy store page. You will be surprised what good value they all are.
In addition to saving money, using what you have on you familiarizes you and your partner with where to hit on the body, how hard is comfortable, and what you're each looking for out your kinky play-time.
It is always a good idea to warm with caresses and light smacks before starting your impact play. This will sensitize the skin to being hit harder and the initial caressing will turn it into a much more erotic experience.
Talk and Play Safe Before You Start Spanking
Whether you want to try some light spanking or learn more about how to practice impact play, there are some things you should know to do it safely. First things first: You must negotiate and communicate with your partner about what you both desire from the experience. An in-person conversation to discuss what you both want and what is off-limits. We have an article on safety and BDSM which you should read and take heed to.
In addition to communicating, one has to know where it's safe to be hit. You want to hit areas on the body that are fleshier and fattier. The ass, thighs, and front of the legs. You want to avoid hitting someone on their spine. You must avoid hitting someone on the lower back where the kidneys are present. Make sure to avoid basically any area in which you could damage organs.
If you're into slapping, make sure to avoid the eyes, mouth, and nose, and keep a flat hand on the fleshy cheek. It's a good idea to practice on a pillow before engaging in impact play. If you are curious about BDSM impact play toys, start small with a hand, and then work your way up.
Spank With Your Hands, The First Time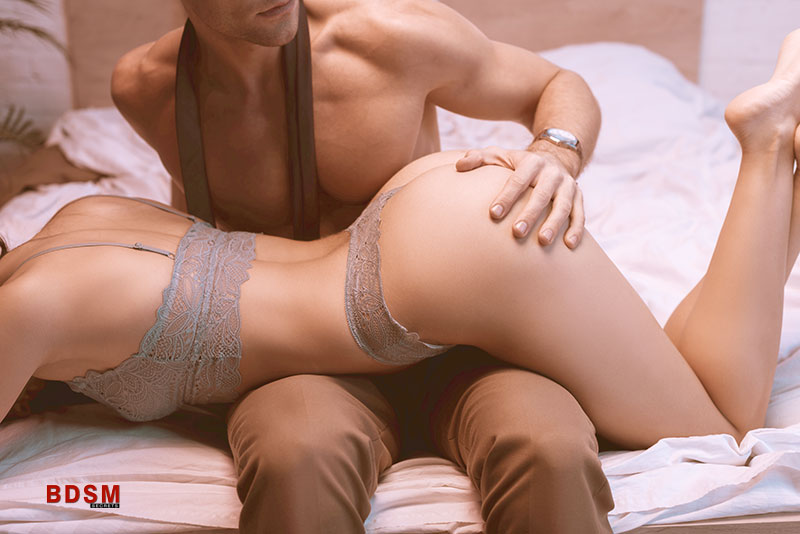 It is best to start with your hands. Spanking is the most basic, yet the most fulfilling form of impact play. Make sure to avoid the dangerous areas, and do not be harsher than what you've agreed upon with your partner.
Different toys feel different on the body. It is suggested to start with a crop because it's multifunctional. You can angle it really well and it can go on lots of parts of the body. You can use the crop in more of a sensual teasing manner, or you can whack it down really hard. Perfect for beginners who are exploring impact play.
Whips and Paddles For Impact Play
If you are looking for something harder that hits with a "thud," opt for a paddle. If you are really into hard spanking, the paddle is a great toy, because it can deliver a lot of force and impact.
Whips, despite the frequent use of their name, can actually be the most dangerous toy of them all, because longer whips can wrap around the body and cut through flesh. Whips sound absolutely amazing to the ears. However, that said, if you're new to this, stick with a paddle for a while. But if you or your partner absolutely know what you're doing and are at least an intermediate, then start incorporating a whip slowly.
After your playtime has ended, make sure you both feel good and secure with what went down. It's an essential part of any sex that involves the risk of psychological or physical harm, including impact play, and may require bringing the submissive partner, the one who received the pain, love, and tenderness and maybe food, water, a blanket, and ice for any bruises. Aftercare is as necessary as the playtime scene itself.
---
Story: The First Time Janice Tried Spanking & Impact Play
Jance was 22 and had a great body, she was the head of her division at Ickel & Co and had a very stressful job. She arrived at her then boyfriend's apartment after finishing up some late work.
She stepped inside and stripped and because he liked watching her naked and that made her horny. He ordered her to do it often when they were alone. She enjoyed letting him take control and obliging him. Previously they had enjoyed a great bondage session together. It was the antithesis of her work life and seemed to relieve the stress of the day.

Soon, she was on her knees with his cock in her mouth, but all of a sudden he asked her to stop and ordered her to go to the bedroom. Nervously standing in front of the bed her eyes are looking at the items laid in a precise line. As he started to spank her gently at first and then it got stronger.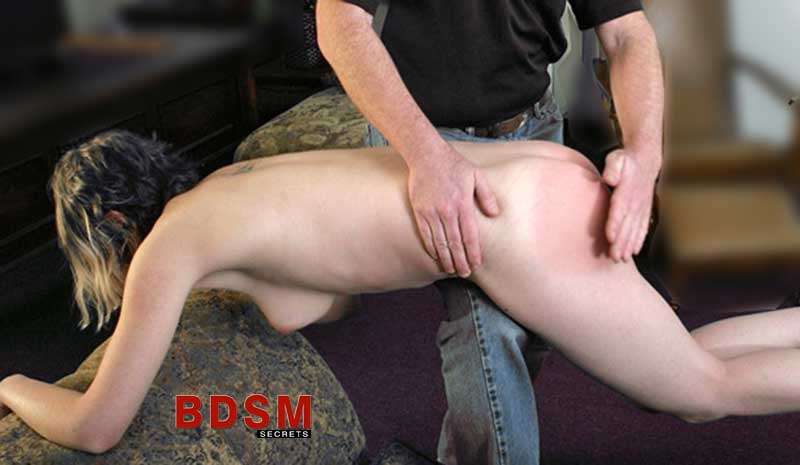 She had seen them in pictures and once or twice in a drawer, but she'd never felt them touch my skin. She laid on the bed with her arms up over my head and her feet dangled off the edge. He whispered in her ear "The safe word is red, do you understand?" She responded, "Yes, the safe word is Red."
This is the First Time She Had Been Hit During Sex Play, Other Than Spanking
She took some deep breaths when feeling his hands gently running up her thigh and rubbing each ass cheek and spreading them apart to press in a purple anal training butt plug. SLAP! The first time she'd been hit in sex play. She thought it was his hand or something flat spanking her.
The pain was broad and surprising. Her body flinched and she raised her hips ever so slightly so he would have a nice rounded view of his pert buttocks.
Several more smacks impacted from what she found out was a riding crop. These had a warm burn to her body. The pain felt wide but not deep. He had her face down in the sheets and her hands tightly grabbed the bed as she waited for what was to come next. She could hear one item being put down and another picked up.
Her Body Flinched From The Impact as He Caned Her
Her ass was waiting for the next sensation. Then she felt it. It was a higher-pitched hit this time. Her body flinched away from the cane. This pain was not broad, the sting went deep into her tissue. It was a light hit and it caused me to think RED. She didn't say anything, She just felt her lip quiver as tears started and she tried to breathe away the pain.
Then a third item came into play. This was the flogger. It had a variety of impact play sensations that it gave her. Some hits were pleasurable and some gave an indescribable hit both hard and soft simultaneously. Through her mind were thoughts of being strong, just breathe away the pain, you can do this.
Tears were flowing down her face creating a wet nose running area on the bed. When her sobbing didn't have breaks her boyfriend would come to her face and say "You asked for this. Didn't you? in a DOM sort of way " She replied, "Yes Sir."
"Your Skin Feels Warm and I Can See The Impact Play Marks," He Said
He provided his cock for her to suck as a refuge from the pain while he took a drink of his whiskey on the rocks. She did not know what to expect or how long this spanking would last. He would slow down and rub her skin with his hand and say "Your skin feels so warm and I can see the cane marks."

After this impact play session, they had amazing regular loving sex, which she was now dying for, and this was the start of a journey for her in the world of kink and BDSM.
Her boyfriend loved taking full control of her and it was such a turn-on presenting myself in the most vulnerable way possible to him.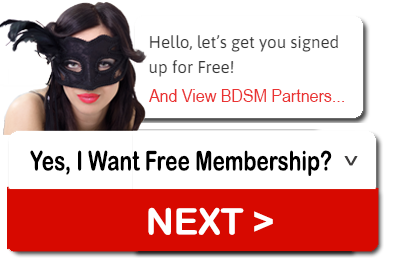 Interesting Videos on Spanking and Impact Play